Chicago's Mike Russow spoke to Chicago's MMA after his victory over John Olav Einemo at the United Center on Fox. He talks about the fight, training with Comprido and who he'd like to fight next.
Just a few weeks ago, Midwest Training Center fighter Dan Stittgen got the call of a lifetime. The call was from the UFC, asking Stittgen to fight at UFC 143. Oddly enough, Stittgen was being asked to replace the only fighter to ever beat him in MMA.
The dream of fighting in the UFC will come true for Stittgen when he fights Stephen Thompson in Las Vegas this Saturday night. Thompson will also be making his UFC debut.
Stittgen is replacing Justin Edwards, who had to withdraw due to injury. Edwards submitted Stittgen back in January of 2010 in Wisconsin, the only blemish on his career record.
Since then he has rattled off four straight victories, including wins locally in Rockford and at XFO 39, where he tapped out Jason Graves just over a minute into the bout. Stittgen has also fought locally at TFC and Fight Club One. He made his amateur debut back at XFO 23.
Stittgen is coming of a majority decision win against Mark Stoddard at King of the Cage in Wisconsin, but he is best known as a submission specialist. Five of his seven pro wins have come by submission.
You can see Stittgen's fight on Facebook this Saturday.
The UFC brings the Octagon to the United Center on Saturday night for UFC on FOX: Evans vs. Davis, and there are a ton of things going on all week. Check out our UFC in Chicago section for more news and interviews.
Main Card (Live on FOX)
Evans vs. Davis: Rashad Evans def. Phil Davis via unanimous decision.
Weidman vs. Maia
Chris Weidman def. Demian Maia via unanimous decision
Evans vs. Davis
Sonnen vs. Bisping Chael Sonnen def. Michael Bisping via unanimous decision
LIVE RESULTS: PRELIMS
Camozzi vs. Jacoby: Camozzi wins via guillotine, 1:08, round 3

Beltran vs. Johnson: Lavar Johnson def. Joey Beltran via TKO-ref stoppage, 4:24 Rd. 1
Roller vs. Johnson: Michael Johnson def. Shane Roller via unanimous decision
Oliveira vs. Wisely: Charles Oliveira def. Eric Wisely 1:43, round 1, calf slicer
Swanson vs. RoopCub Swanson def. George Roop at 2:22, rd 2 TKO-Strikes

Russow vs. Einemo Mike Russow def. John Olav Einemo via unanimous decision
Dunham vs. LentzEvan Dunham def. Nik Lentz- TKO rd.2 5:00
Michael Bisping broke out the double-bird salute for his 'fans' at the UFC on Fox weigh-ins.
Bisping was announced by UFC commentator Joe Rogan, and he came out on the stage to a roar of boos and catcalls. Bisping slipped off his clothes, got on the scale and gave the fans this response: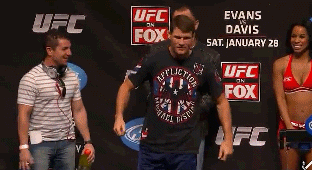 Does Bisping really mean that or is he just having some fun with the UFC fans here in Chicago? It's probably a bit of both.
Here's the video of how it went down.
It's hard to steal the show from Chael Sonnen at a UFC press conference, but Rashad Evans and Phil Davis might have pulled off the feat yesterday at the UFC on FOX presser downtown.
Rashad ranted rapidly about Davis' wrestling technique being 'trash', and Phil Davis used some 'Chappelle's Show' quotes to jibe the former light heavyweight champion.
Evans and Davis will fight in the main event Saturday night from the United Center when the UFC on FOX airs at 7 CT.
The UFC on FOX press conference featured some great zings between fighters — some coming from fighters not currently in the UFC.
Matt Giancarlo is an amateur fighter out of Gilbert Grappling, who has competed at Brawl at Bourbon Street and G2 Fight Night. He got the smack-talk rolling at the press conference yesterday with this exchange with Michael Bisping. In true Bisping form, he gives it right back.
Giancarlo has trained with Sonnen at Team Quest in Portland, and he'll fight again locally in March or April. He'll eventually turn pro, and maybe we'll even see him on the same UFC card with Bisping some day.
The training camps are finished, the poorly-timed Sandusky jokes have faded away and the fighters will finally enter the Octagon.
Rashad Evans and Phil Davis will battle at the United Center on Saturday night, with the winner getting the next shot at Jon Jones and his UFC light heavyweight title.
Evans lives in Chicagoland and has family here, but that's not why I want him to win. Phil Davis is a very young fighter and he'll have other shots at a title fight. I want Evans to win because I love a good grudge match. I think most of the MMA community wants to see Evans/Jones and I am no different.
But I think Evans just has too much for Davis at this point: Evans has too much power, too much experience and he's a top-level wrestler, which is what ultimately might thwart Davis' gameplan.
Here is the preview video from the UFC, as if you weren't already pumped for this bout.

Chael Sonnen will fight Michael Bisping Saturday night in the co-main event of the UFC on FOX event at the United Center, but he took time to give a seminar at MMA Stop in Crest Hill on Tuesday night.
In this clip, Sonnen gives a nice motivational speech that also has everyone cracking up — including Clay Guida.
The California Kid is in cold, blustery Chicago for the UFC on FOX event at the United Center on Saturday.
But before Saturday night's fights, Urijah Faber will host a seminar at MMA Stop in Crest Hill. Clay Guida is likely to be there, and Faber will also be signing autographs and taking pictures.
Faber's Jiu-Jitsu coach Fabio Prado has been in town a few times for seminars at CounterStrike MMA, and now it's Faber's turn to teach Chicago MMA practitioners.  Details and registration info on the poster below.
It will be a battle of two former PRIDE fighters when Chicago's Mike Russow takes on Norway's Jon Olav Einemo Saturday night at the United Center for the UFC on FOX event.
Russow is 14-1 as a pro fighter, suffering his only loss back in 2007 from a Sergei Kharitonov armbar at PRIDE 33. He has won all three of his UFC fights, including one of the all-time comebacks in UFC history when he knocked out Todd Duffee at UFC 114.
Chicago fight fans remember Russow crushing opponents in local promotions like Adrenaline, XFO and the Combat-Do Fighting Challenge. He's also well-known around the area for his work as a Chicago police officer. ESPN did a nice feature on Russow, also interviewing Comprido, his Jiu-Jitsu coach.
"This is the biggest fight of my career, without a doubt," Russow told ESPN. "I'm pumped I finally get to do it in front of my hometown on national television. I'm in the best shape of my life, and I'm ready."
The matchup with Einemo definitely favors Russow. Russow has power in his hands, an excellent chin and a much better ground game than Einemo. All signs point to Russow getting his hand raised on Saturday night, something that is sure to make the United Center roar.
You can watch Russow's fight, as well as the rest of the preliminary bouts on Fuel TV.