Ricardo Lamas met the media at the United Center Saturday Night, just one week before his title shot against Jose Aldo at UFC 169.
Lamas talks about the support he's getting from Chicago, how he won't be intimidated by Jose Aldo and much more in this video by Miguel Cisneros (@MiguelCTV).
Chris Tickle talks with Chicago's MMA about why the TUF house is worse than jail, the nickname they came up with for Dominick Cruz on the show, how he plans to beat Chase Beebe on December 15th and more.
Jose Aldo will defend his UFC featherweight title against Chad Mendes in the main event at UFC: Rio on Saturday, January 14 in Brazil. The co-main event features Vitor Belfort vs. Anthony Johnson. The four headliners for UFC: Rio jumped on a conference call to discuss their fights. Here's a quick look at what they had to say.
Jose Aldo, UFC featherweight champion
"There's more attention and it is a great pleasure to defend my title in my home country. It means everything for me to come back fighting in my country as a champion.
"This is where I started, just with dreams and hopes, and now I am back as a champion. It is a great feeling, but I will try to think about it after the fight. I still have to train hard and win this fight.
"I found a few things in his game I can exploit. I've trained very hard for this fight; I never underestimate any fighter and want to remain as champion.
Chad Mendes, No. 1 featherweight contender
"Going into the champion's own backyard is exciting. There's no doubt that he is the best fighter in this weight class. He has some things he is better at than others, but he's got no 'holes' in his game. But I feel I am the same; I've sat down with Urijah Faber (coach and friend) and we have come up with a great plan.
"When Urijah fought him, we didn't red-flag his leg kicks, but obviously we have prepared for that in this fight.
"Other fighters have stood there and let him take them apart; I think I will get in there and get my hands on him. No one else he's fought has my level of wrestling, to where I will get him down and keep him down.
"The Aldo camp saying I am not ready for a title shot? They don't know how good I am. They've never fought me or trained with me. I am very, very ready for this title shot. He has great takedown defense but my type of shot is a 'blast-you-off-your-feet' type of shot.
"He's the one with the pressure. He's the champ. He's the headliner in his own town, while I am the up-and-comer, the underdog. There's no pressure on me.
"It's crazy to think that three and a half years ago I was in college, and this trip in MMA has really been a wild ride.
"I knew I would be good at this sport. But to get a title shot after 11 fights is just a dream. I get to travel all over the world. I know this is a short window in my life and I am loving every minute of it."
Vitor Belfort, UFC middleweight
"I do believe UFC will surpass soccer as the No. 1 sport in Brazil. It has everything in place – the stars, the athletes – to become the biggest sport in the world. I think it will overtake every sport in the world. People deny that, but I think it is already happening. The Junior dos Santos fight in November had more Brazilian (TV viewers) than Brazil vs. Argentina (soccer match).
"I am so happy to be fighting on this card. I have the coaching with The Ultimate Fighter Brazil coming up (after this fight) but I am 100 percent focused on this fight with Anthony.
"I don't look for God to help me with wins; I look for God in my daily life. I live my life for Jesus, I try to live by an example."
Anthony "Rumble" Johnson
"It is an honor to fight in Brazil. I don't mind fighting in anyone's backyard, I am a fighter and the Octagon is the Octagon anywhere it is in the world.
"Fighting at this weight is a lot of fun for me. This is easy. I'm 215 pounds right now. I am looking forward to fighting as a middleweight and being a better athlete, a thousand times healthier than I was at 170 pounds.
"You are going to see a new, more dangerous "Rumble" at 185 pounds."
This card is amazing. Two title fights: Edgar vs. Maynard and Aldo vs. Florian and then the Brian Stann vs. Chael Sonnen fight.
If Edgar vs. Maynard III is anything like the last fight, it's going to be insane. This trailer will definitely get you psyched up.
When executed properly, flying knees are fight changers. Your opponent is left wobbly and dazed, and you're right in front of him to finish the fight — if it isn't already over. Here are some of the best flying knees in MMA history.
Jon Jones vs. Shogun Rua
Kid Yamamoto vs. Kazuyuki Miyata
Alistair Overeem vs. Kazuyuki Fujita
Valentijn Overeem vs. Kazuo Takahashi
Robbie Lawler vs. Joey Villasenor
Patricky Pitbull vs. Toby Imada
JZ Cavalcante vs. Hiroyuki Takaya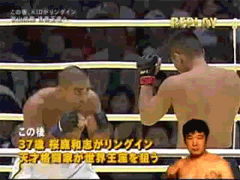 Anderson Silva vs. Carlos Newton
Karl Amoussou vs. Kazuhiro Hamanaka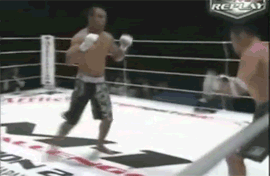 Diego Sanchez vs. Luigi Fioravanti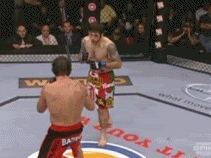 Thiago Alves vs. Matt Hughes
Spencer Fisher vs. Matt Wiman
James Irvin vs. Terry Martin
Yves Edwards vs. Edson Berto
Nick Pace vs. Collin Tebo
Joachim Hansen vs. Caol Uno
Tatsuya Kawajiri vs. Kozo Takeda
Fredson Paixao vs. Pablo Garza
Jose Aldo vs. Cub Swanson
Thiago Tavares vs. Tyson Griffin
Diego Sanchez vs. Joe Riggs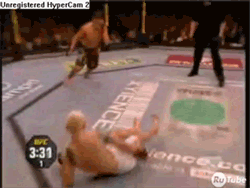 BJ Penn vs. Sean Sherk
Patricio Pitbull vs. Gleristone Santos
Ricardo Lamas vs. Bendy Casimir
LC Davis vs. Rafael Dias
Tip of the hat to Damn Severn and The UG. Click the link to see more there.
November 24, 2010 by Matt

MMA broadcaster/cage announcer Ray Flores caught up with new UFC Featherweight Champion Jose Aldo to discuss the UFC/WEC merger and his upcoming fight against Josh Grispi at UFC 125. Unfortunately for fight fans, Aldo has had to withdraw from that bout due to compacted vertebrae, which was causing some tingling in his arms, according to Heavy.com.

Dethrone Jose Aldo Samurai Tee (Limited Edition)
November 10, 2010 by Matt

The new Jose Aldo Dethrone Samurai Tee has a limited of run of 400 or less. Get them while you can!

Dethrone Jose Aldo Samurai Tee (Limited Edition)
New Jose Aldo signature hoodie from Dethrone.

New Dethrone Jose Aldo Signature Hoodie
Jose Aldo destroyed another opponent at WEC 51 in Colorado. This time it was Manny Gamburyan. He also had a new walkout shirt from Dethrone.

Dethrone Jose Aldo WEC 51 Walkout Tee
September 3, 2010 by Matt

Here's the promo for WEC 51: Aldo vs. Gamburyan, an incredibly stacked card.
This card is absolutely loaded. So much so that we don't even see Miguel Torres in the promo, nor do they mention former champ Mike Brown, the Mark Hominick vs. Leonard Garcia fight, the Chris Horodecki vs. Ed Ratcliff fight or The Korean Zombie. Yes — WEC 51 is stacked to the hilt.

Silver Star Urijah Faber Hoodie