As reported by http://norsk-casino.info/, UFC CEO Lorenzo Fertitta has confirmed that middleweight champion Chris Weidman will make his next title defense against Vitor Belfort in Las Vegas, according to a report from ESPN. The fight would take place in May or June 2014.
Fertitta's words came after UFC president Dana White said that 2013 MMA Fighter of the Year nominee Vitor Belfort would be the next challenger for middleweight champion Chris Weidman's title.
Weidman told MMA Junkie that he's happy with Belfort as his next opponent, but isn't a fan of his TRT usage.
"I'm happy about (fighting in Las Vegas)," Weidman said. "(Belfort) fought in Brazil now for the last two years, and obviously he looks like the Hulk now. He's on TRT and he's been caught cheating before for testosterone and I don't know what else. For a guy who's 36 years old to have a lot higher testosterone than me at 29 years old, and I've never taken anything, is really not fair. So I'm happy that I'll be fighting in Vegas, and I hope they'll do due diligence in testing him to make sure he's not cheating."
In 2006, Belfort failed a post-fight drug test administered by the Nevada State Athletic Commission (NSAC). In the following years, he would begin to use Testosterone Replacement Therapy (TRT) to help him train and he has received therapeutic use exemption to use TRT in Brazil. But he has yet to receive one from the NSAC. Belfort has mostly fought in his native Brazil – in 2013 he fought there three times, where he is as big a draw – if not bigger – than Anderson Silva.
Some doubt resides whether the NSAC will allow Belfort to receive a TRT exemption, though they have approved them for many other fighters in the past.
Belfort is coming off three straight knockout wins against impressive opponents: Dan Henderson, Luke Rockhold and Michael Bisping. His last two losses have come in title shots. Jon Jones defended his UFC light heavyweight title at UFC 152 by submitting in the fourth round. Belfort also lost to Anderson Silva in a shot for the middleweight championship
Weidman most recently defended his title to former champion Anderson Silva on December 28 at UFC 168, scoring a technical knockout just 1:16 into the second round, when the fight ended after Silva broke his leg while throwing a kick that was checked by Weidman.
Click here for the original source article on Norsk-casino.info website.
by Matt Lo Cascio
FOX Sports and the UFC released their 2013 broadcast schedule, and Chicago will be one of their first stops.
The first UFC on FOX event of the new year will take place January 26 at the United Center in Chicago. No fight announcements have been made for the event.
The UFC was in Chicago just once in 2012, also for a UFC on FOX broadcast. The main card of that event featured three fights that all went the distance. Chael Sonnen defeated Michael Bisping, Chris Weidman easily bested Demian Maia and Rashad Evans beat Phil Davis, all by unanimous decision.
Evans was happy with the win, but not how he got it. "I wanted to do better. I wanted to put on a more spectacular win for the Chicago fans and the FOX fans," Evans said after the fight. "I didn't do it like I wanted to or how I envisioned it, but at the same time I got the job done."
Chicago police office Mike Russow also fought on the card, and he beat Norway's Jon Olav Einemo via unanimous decision.
"2013 is shaping up to be a huge year for the UFC and we can't wait to bring more great fights to FOX!" said UFC President Dana White. "We're going to continue to take the UFC all over the world putting on the biggest and best fights. FOX is an amazing broadcast partner and we're going to do some big things next year."
Michael Bisping broke out the double-bird salute for his 'fans' at the UFC on Fox weigh-ins.
Bisping was announced by UFC commentator Joe Rogan, and he came out on the stage to a roar of boos and catcalls. Bisping slipped off his clothes, got on the scale and gave the fans this response: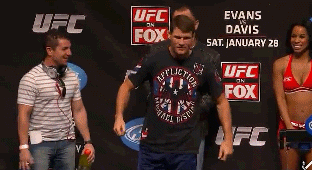 Does Bisping really mean that or is he just having some fun with the UFC fans here in Chicago? It's probably a bit of both.
Here's the video of how it went down.
The UFC on FOX press conference featured some great zings between fighters — some coming from fighters not currently in the UFC.
Matt Giancarlo is an amateur fighter out of Gilbert Grappling, who has competed at Brawl at Bourbon Street and G2 Fight Night. He got the smack-talk rolling at the press conference yesterday with this exchange with Michael Bisping. In true Bisping form, he gives it right back.
Giancarlo has trained with Sonnen at Team Quest in Portland, and he'll fight again locally in March or April. He'll eventually turn pro, and maybe we'll even see him on the same UFC card with Bisping some day.
Chael Sonnen will fight Michael Bisping Saturday night in the co-main event of the UFC on FOX event at the United Center, but he took time to give a seminar at MMA Stop in Crest Hill on Tuesday night.
In this clip, Sonnen gives a nice motivational speech that also has everyone cracking up — including Clay Guida.
We caught up with UFC middleweight contender Michael Bisping at the UFC on FOX press conference at the United Center on Wednesday.
Bisping talked about how Mayhem Miller was 'like a little boy' and easy to throw around during their fight last Saturday night, how he views his upcoming fight with Demian Maia and if he gets the respect he deserves in the UFC.
Bisping has now recorded four straight victories, but he's probably right when he says he doesn't get the respect he deserves, and that will likely remain the case even if he defeats Maia. Bisping will always be over-criticized due to his saltiness, and maybe even because he is an English fighter. He may not ever be completely respected until he holds the title.
But as Mayhem said in the post-fight interview with Joe Rogan, you may not like Bisping but as a fighter he deserves your applause. And your respect.
Let the fireworks begin. As much as a downer season 13 of The Ultimate Fighter was — at least to some people — this season might have more fireworks than needed between the two coaches. Bisping has a hair trigger on his emotions, and Miller is the 12-year old that will goad you until you snap.
Here's the first look at the new season, a quick teaser recently released by Spike.
UFC 132 is set to take place on Saturday, July 2nd at the MGM Grand Garden Arena in Las Vegas, NV. The main event is a rematch between Dominick Cruz and Urijah Faber for the UFC Bantamweight Championship.
Cruz and Faber faced each other in 2007 for the WEC Featherweight belt. Cruz took the loss – his only to date – when he was submitted by guillotine choke in the first round. Cruz went on to win his next 8 bouts, including 3 WEC/UFC Bantamweight Championship matches. Faber is 7-3 since his first match-up against Cruz, with all 3 losses for the WEC Featherweight Championship. Faber's third featherweight championship loss was his last in the 145lbs division and he is now 2-0 since moving down to 135lbs.
Here are my predictions for all five, main card, fights.
Dominick Cruz vs. Urijah Faber
Cruz and Faber is not only a great rematch for UFC fans, but it's an intense grudge match. Cruz and Faber have publically admitted that they don't care for each other, which makes this bout even more exciting.
Even though Faber hasn't faired well in championship bouts recently, he is still a force in the cage. Faber has the ability to end a fight in numerous ways. His cardio is always excellent and he is never lacking confidence. Faber might even have the mental edge in this bout, due to his previous victory over Cruz. However, Cruz has evolved greatly since his last match with Faber. Cruz has out worked all of his opponents and kept himself out of danger with his in & out style. I see Cruz continuing his winning ways to retain his belt by decision.
Pick – Dominick Cruz
Wanderlei Silva vs. Chris Leben
Silva vs. Leben is the kind of stand-up war that fans dream about. These two guys have combined for 36 knockout victories in their careers. There is a chance that this fight could end early in the first round, with either guy getting their hand raised. Leben is coming off a bad loss to Brian Stann and Silva has been out of action since February 2010. Silva did have a decision win against Michael Bisping in his last bout, but he lost 5 of 6 before that match. Can Leben rebound from his last loss? Will Silva be rusty after being out for over a year? All I know is that this is going to be a war and it should excite fans from start to finish. I'm having a hard time picking the winner, but I see Leben coming away with the victory, as long as he stays away from Silva's knees.
Pick – Chris Leben
Tito Ortiz vs. Ryan Bader
Ortiz has not won a fight since 2006 and some wonder why he is still in the UFC. The answer, he has name recognition and he can still hang with most guys in the division. Ortiz now has the opportunity to keep his job when he faces a young, tough fighter in Bader. Bader is 12-1, with his one loss to Jon Jones, and has progressed as a fighter since his stay in the Ultimate Fighter house. I see Bader using his power, wrestling and youth to carry him to a unanimous decision victory over Ortiz.
Pick – Ryan Bader
Carlos Condit vs. Dong Hyun Kim
Condit and Kim are both coming off huge wins. Condit knocked Dan Hardy out last October and Kim beat Nate Diaz by unanimous decision in January. Kim is looking to once again beat a top level guy on his way up the welterweight ladder. Meanwhile, Condit is looking to cement himself as the top contender for the welterweight championship. Kim will try to take Condit down and wear him out for the victory, but I don't see that happening. Condit should be able to utilize his stand-up and ground game to pick up the victory by submission.
Pick – Carlos Condit
Dennis Siver vs. Matt Wiman
Wiman is coming off three straight wins, including a very impressive victory over Cole Miller in January. The problem is that Wiman is going up against a dangerous striker in Siver. Wiman will try to take Siver down, but ask George Sotiropoulos how well that worked for him. I see Siver keeping the fight standing and finish Wiman by TKO.
Pick – Dennis Siver
by Tim Stroud

UFC fighter Michael Bisping had some fun after his UFC 127 fight in Australia. When a fan asked if he could punch Bisping in the stomach, Bisping let him. Then Bisping got to throw his own shots.
It was all in good fun…at least for Bisping. That other dude likely needed more than booze to take the pain away the next day.
h/t: TMZ
Michael Bisping Xtreme Couture Shirt
November 15, 2009 by Matt

Michael Bisping and Dan Hardy meet the media after their amazing performances at UFC 105.